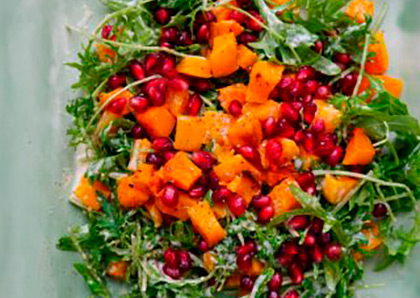 A delicious roasted squash and pomegranate salad. The addition of nuts and dried fruit, fresh herbs and a citrus dressing provide a vibrant winter salad containing protein and antioxidants. Pomegranates are an excellent source of phytonutrients and studies show benefits for cardiovascular health.
Serves 3-4
Ingredients
1 small squash cut into chunks, peeled, deseeded
1 tbsp olive oil
Seeds of 1 pomegranate
100g spinach and rocket leaves
A handful of fresh mint
A large handful of fresh coriander
3 large carrots, peeled and grated
2 oranges, zested, peeled and cut into slices
Zest of 1 lemon
20g walnut or pine nuts
20g dates, chopped
Salt and black pepper
For the dressing
Juice of ½ orange
Juice of ½ lemon
1 tbsp walnut oil
Salt & black pepper
Method
1. Preheat the oven to 180°C.
2. In a roasting tin, coat the squash with the olive oil and season with salt and pepper. Bake for about 40 minutes or until tender. Cool slightly.
3. Arrange the salad leaves onto a serving plate. Finely chop the mint and coriander leaves and combine with the grated carrots. Season with a little salt and pepper, then place a layer over the leaves.
4. Put the orange slices on top. Add the roasted squash, then the pomegranate seeds and the walnut and date pieces.
5. Combine the dressing ingredients in a small bowl, then drizzle over the salad plate to serve.
Allergy advice: contains nuts.