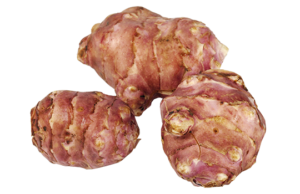 This is one of my favourite Jerusalem artichoke recipes, courtesy of Nigel Slater.
Jerusalem Artichokes have nothing to do with the Holy Land. They are part of the sunflower family, and it's easy to see how a relation of a girasole (Italian for sunflower) could end up being labelled 'Jerusalem'. Don't be put off by the knobbliness. Peeling can be a pain, so I hardly ever bother, but you do have to put them into lemon water the minute the flesh is exposed or they discolour.
Serves 2-3
Ingredients
800g Jerusalem artichokes
½ lemon
75g butter
20g parmesan, grated
2 large garlic cloves
100g chard, young leaves
40g butter
10g parmesan, in one piece
Method
Peel the artichokes, then either boil them in salted water, acidulated with the lemon juice, or cook them in a vegetable steamer (about 15 minutes, until tender).
While the artichokes are cooking, peel the garlic and slice it thinly. Trim the chard, cutting off and discarding any browning edges on the stems.
Melt 40g of butter in a shallow pan, then add the sliced garlic and leave to cook until golden and crisp. You will need to move it around the pan and take care that it becomes crisp, but doesn't burn. Remove from the pan and place on a piece of kitchen paper.
Drain the artichokes and mash to a smooth purée, either by hand or using a machine, adding the 75g piece of butter as you go. Season with salt, black pepper and some of the grated parmesan.
Return the shallow pan to the heat and add the chard leaves, tossing them in the garlicky butter that remains in the pan for a couple of minutes until they start to wilt. Divide the creamed artichoke between two hot plates, then place the chard and garlic on top. Add a few shavings of parmesan, cut from the block with a vegetable peeler, and the reserved fried garlic at the last moment.