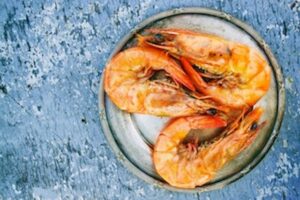 JERK PRAWNS WITH QUINOA
This spicy dish serves up a real flavour of summer nights.
INGREDIENTS
450g raw shelled tiger prawns (jumbo shrimp)
200g quinoa
480ml vegetable stock (broth)
1 large ripe avocado
3 tbsp olive oil
6 spring onions (scallions), diced
Juice of 1 lemon
Handful of parsley, chopped
A few chives, snipped
Salt and freshly ground black pepper
1 lime, cut into wedges, to serve
JERK MARINADE:
2 tsp allspice berries, crushed
2 tsp black peppercorns, crushed
½ tsp ground nutmeg
½ tsp ground cinnamon
Leaves from 4 sprigs thyme
¼ onion diced
2 garlic cloves, crushed
2.5 cms fresh root ginger, peeled and diced
2 medium heat chillies, diced
1 tsp stevia as required
1 tbsp Tamari (soy) sauce
Juice of 1 lime
METHOD
Make the jerk marinade by blitzing all the ingredients in a blender to form a paste. Transfer to a bowl then add the prawns. Cover and chill for at least 30 minutes.
Rinse the quinoa. Bring the stock to the boil and add the quinoa. Reduce the heat. Cover and simmer for 15 minutes (or until most water is absorbed). Leave to stand for 6-8 minutes, then drain off any excess liquid. Fluff up with a fork.
Cut the avocado in half and dice. Mix with 2 tbsp of olive oil, onions, lemon juice and herbs. Season to taste with salt and pepper.
Heat the remaining oil in frying pan. Cook prawns for 1-2 minutes on each side.
Toss the quinoa with the avocado mixture, divide quinoa into 4 portions and place prawns on top.  Serve with lime wedges.