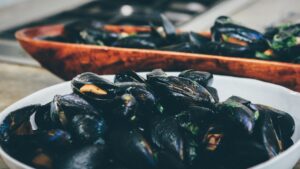 A delicous and easy meal for any time of the week.  Recipe courtesy of Olive Magazine.
Serving size:  Serves 4 people
INGREDIENTS
Mussels 2 kg
Coconut oil or olive oil
Spring onions 3, finely chopped
Kaffir lime leaves 2, torn in half
Thai red curry paste, 2-4 tbsp
Coconut milk 400ml
Fish sauce 2 tbsp
Lime 1, juiced
Red chilli 1, finely sliced
Thai basil ¼ bunch, leaves picked (optional)
Basmati rice, to serve
Clean the mussels by scrubbing them and pulling off any beards. Throw away any mussels that don't close during the cleaning process or when tapped on the sink, these are dead.
Heat a little oil in a large pan, add the spring onions and cook for a minute, then add the lime leaves and red curry paste and cook for a minute. Add the coconut milk and bring to a simmer, cook for 2-3 minutes, tip in the mussels and put on a lid.
Cook for 3-5 minutes more, shaking the pan to help the mussels open.
Once they are open add the fish sauce, lime juice, chilli and basil and shake the pan.
Serve in deep bowls with some steamed rice on the side, once you've eaten the mussels tip any remaining sauce onto the rice.