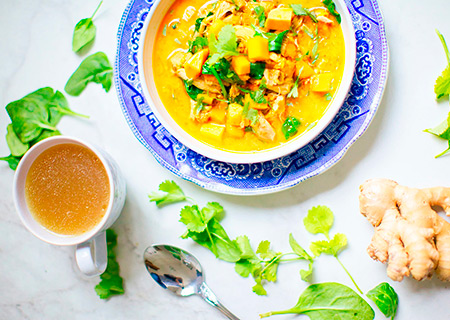 Have you heard that chicken soup is good for you when you're unwell?
If you thought it was just an old wives' tale, you'd be wrong. Research suggests that a bowl of chicken and vegetable soup can slow the speed at which neutrophils move around your body. Neutrophils are a type of white blood cell and part of the immune system, protecting your body from infection. When the neutrophils move slowly, there's a greater chance of them becoming more concentrated in the areas of your body that need the most healing. Studies have shown chicken soup to be particularly helpful in reducing symptoms in upper respiratory system infections.
Thai-Style Chicken Soup
This lovely fragrant soup contains garlic and ginger (known for their antiviral qualities) and plenty of vegetables.

Serving size: Serves 4
Ingredients
For the paste:
1 large red chilli, seeded (or ½ tsp dried chilli)
1 tbsp fresh ginger, grated
1 tsp ground turmeric
3 garlic cloves, crushed
½ onion, roughly chopped
For the soup:
1 tbsp coconut oil
400g can coconut milk
400ml chicken stock
1 tbsp fish sauce (Nom Pla)
2 tbsp xylitol (or ½ tsp stevia)
2 chicken breasts, cut into small dice
100g broccoli, cut into small florets
Handful sugar snap peas, halved
Handful of coriander leaves, chopped
4 spring onions, sliced
Method
1. To make the spice paste, put all the paste ingredients into a food processor, then add 4 tbsp of the coconut milk and whizz to form a paste.
2. Heat the coconut oil in a large pan, add the spice paste and cook for 1–2 mins. Add the rest of the coconut milk, stock, fish sauce and xylitol (or stevia). Bring to the boil then gently simmer for 7–10 mins.
3. Add the chicken to the pan and cook for 2–3 mins.
4. Add the broccoli and cook for a further minute, before adding the sugar snap peas and cooking for another minute.
5. Pour into bowls and sprinkle over the chopped coriander and spring onions to serve (optional).