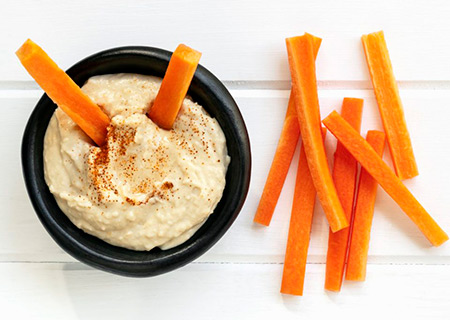 Ingredients
1 x 400g can of chickpeas
1 clove of garlic
1 tablespoon tahin
1 lemon
extra virgin olive oil
1. Drain the chickpeas and put them in a food processor.
2. Peel the clove of garlic and add to the robot, add the tahini, the juice of half a lemon and 1 CS of oil.
3. Season with a pinch of sea salt, then put the lid on and mix. Use a spatula to scrape the bowl and mix again until the desired consistency is achieved.
4. Taste and add more lemon juice or a little water if needed then transfer to a bowl to serve.
Notes: Serve with raw vegetables (carrots, cucumber, radish, peppers or apple).
Allergy advice : contains sesame.