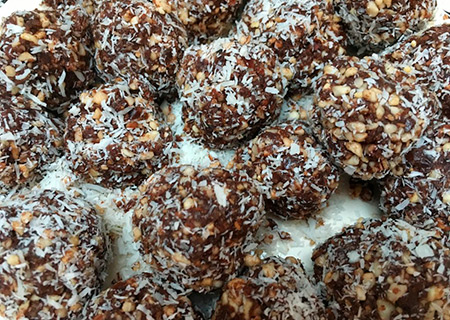 Full of protein, these energy balls are a hit with everyone. Ideal as a snack, you should only eat one or two at a time but they will keep in a covered container for up to a week (if they haven't been eaten before!).
Serving size: Makes 20-24 balls.
Ingredients
2 cups dates (pitted)
2 cups almonds or mixed nuts
¼ cup unsweetened raw cocoa powder
¾ cup desiccated coconut (1/4 cup for mixture, ½ cup for rolling)
¼ tsp salt
½ tsp vanilla extract
1-2 tbsp unsweetened almond milk, coconut milk or water
Method
1. Put dates, nuts, cocoa power, ¼ cup of coconut and sea salt in food processor and process until the mixture ressembles bread crumbs.
2. Add vanilla extract and 1 tbsp of nut milk. Process until mixture holds together when squeezed into a ball. If it doesn't do this, add 1 more tbsp of nut milk.
3. Put desiccated coconut on a plate. Roll mixture into balls with your hands. Roll each ball in the desiccated coconut. Ready to eat.
Notes: Store for up to a week in a sealed container.
Allergy advice: Contains nuts.