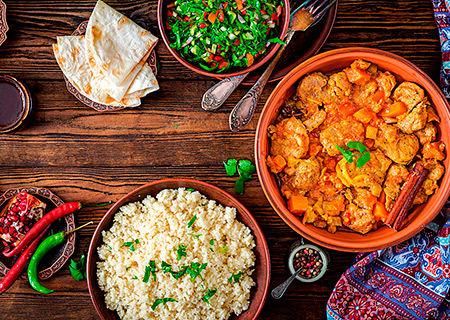 Couscous is a perfect combination of nutrients in one dish. Be sure to balance your plate with more vegetables than meat and grain.
Serving size: Six generous portions
Ingredients
1 kg lean stewing lamb or 400 g lamb, 250 g beef and ½ chicken
2 onions, chopped
60 g chick peas, soaked overnight or tinned
2 turnips, quartered
2 large carrots, sliced
2 tablespoons olive oil
Salt and black pepper
¼ teaspoon ground ginger (optional)
¼ teaspoon saffron (optional)
500 g or more couscous or quinoa (if avoiding gluten)
60-120 g raisins
3 courgettes, sliced
120 g fresh shelled or frozen broad beans
2 tomatoes
A bunch parsley, finely chopped
A bunch coriander, finely chopped
Cayenne or chilli pepper
1 teaspoon paprika
3 tablespoons butter
Method
1. Put the meat, chicken if used, onions, chick peas, turnips and carrots – all the ingredients which required longer cooking – in a large saucepan.Cover with water, add the oil, pepper, and ginger and saffron if you like, bring to the boil and simmer for about 1-1 1/2 hours.
2. Add salt only when the chick peas have softened.
3. Add raisins, courgettes or marrow, broad beans, tomatoes, parsley and coriander to the simmering stew. Cook for a further 1/2 hour.
4. In the meantime, cook the couscous following the instructions on the packet.
5. Take a good cupful of sauce from the stew and stir in cayenne or chilli pepper, enough to make it very strong and fiery, add a little paprika.
Notes:
To serve, pile the couscous on to a large dish, preferable a wooden or earthenware one. Add butter and work it into the grains as it melts. Arrange the meat and vegetables over the couscous and pour the broth over it. Pass the hot, peppery sauce round separately in a little bowl.
This dish can be varied indefinitely. Fry the meat and chopped onions in oil before adding the other ingredients if you like. Add baby onions, sliced green peppers, and a slice of pumpkin, small shredded white cabbage, a few pitted dates, or runner beans and peas. Colour the stew with tomato concentrate and paprika, and make it fiery with cayenne or harissa. Or add a little cinnamon and rose water to the butter when you melt it into the couscous.
Source: Adapted from a recipe by C Roden (1986) A New Book of Middle Eastern Food. Penguin Books, England.
Allergy advice: Replace couscous with quinoa or other gluten-free grain if allergic to gluten.