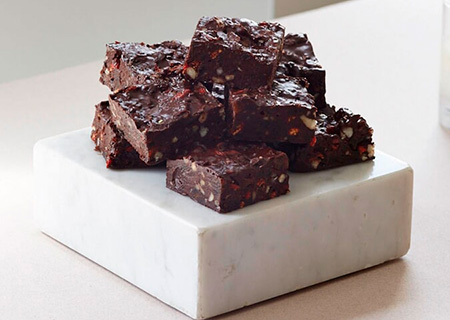 For the dry mix:
155g (1 cup) dried apricots (sulphur free)
40g (1⁄2 cup) walnuts
60g (1⁄2 cup) hazelnuts (or use whichever nuts you have)
80g (1⁄2 cup) mixed currants or raisins
55g (1⁄2 cup) goji berries
For the chocolate mix:
150g (3⁄4 cup) coconut oil, melted
60g (3⁄4 cup) cacao powder
30g (1⁄4 cup) coconut sugar
170g (1⁄2 cup) maple syrup
60g (1⁄2 cup) pitted dates soaked for 30 minutes
This vegan (egg-free, gluten-free, dairy-free) rocky road recipe makes a delicious occasional treat.
These rocky road squares contain goji berries (available in organic food shops) which have lots of health benefits. They contain high levels of antioxidants including vitamin C, beta-carotene and zeaxanthin. These phytochemicals provide immune system support, promote healthy skin, stabilise blood sugar, and protect against cancer and age-related eye diseases.
Serving size: Makes 9-12 pieces
1. Line a 15cm square baking tin with baking paper.
2. Place all the dry mix ingredients in a high-powered food processor and pulse on high until just broken up and mixed together but still chunky.
3. Transfer to a large mixing bowl and clean out the bowl of the food processor.
4. Next, make the chocolate mix. Add the coconut oil, cacao, coconut sugar and syrup to the clean food processor and blend on high, then add the dates and blend until smooth and combined. Make sure you don't over-mix the chocolate or it can separate. If this happens add a few drops of water until it comes back together.
5. Pour the chocolate mix over the dry mix and stir together with a large spoon until well combined. Scoop into the baking tin, pressing the mixture down to ensure it is compact.
6. Place in the fridge for 3–4 hours or the freezer for 1 hour until it has completely set, then cut into 9–12 pieces.
Notes: Keeps well in the fridge for up to 7 days.
Source: Daisy Payne, The Hardihood for Me+Em
Allergy advice: contains nuts.