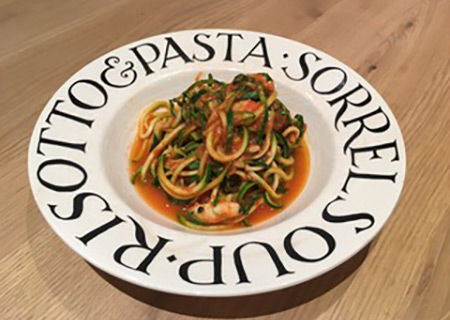 This is a simple and delicious recipe adapted from Amelia Freer's, Nourish & Glow: The 10-Day Plan. It's a great success with the whole family so I make it most weeks!
Serves 4
Ingredients
250 g cherry tomatoes
1 clove garlic, peeled
1 dried red chilli
2-3 tbsp tomato purée
sea salt and freshly ground black pepper
1 tbsp light olive oil
400g cooked or raw king prawns, no shells (defrosted if using frozen prawns)
4 large handfuls rocket
4 courgettes, spiralised or make ribbons with a vegetable peeler
2 handfuls finely chopped fresh basil or flat-leaved parsley
drizzle of extra-virgin olive oil
lemon zest (optional)
Method
1. Put the cherry tomatoes, garlic, chilli, tomato purée and salt and black pepper to taste in a blender and blend to sauce consistency.
2. Heat the oil in a sauté pan. Add the spicy tomato sauce and simmer for a few minutes. You may need to add water if it seems too thick.
3. Add the prawns and simmer for 4-5 minutes, or until they are heated through if pre-cooked or cooked through if raw. Add the rocket and stir through to wilt.
4. Add the courgetti to the sauce and stir through until softened. Sprinkle with the fresh herbs, a little extra virgin olive oil, lemon zest and seasoning to taste.
5. Serve immediately.
Source: Freer A (2017) Nourish & Glow: The 10-Day Plan. UK: Random House.
Allergy information: contains crustaceans.