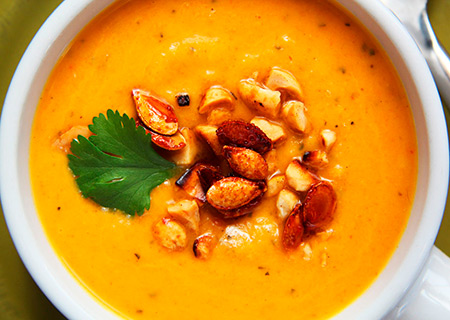 A delicious winter soup. A good source of vitamin A for healthy eyes and skin.
Ingredients
For the soup:
3 tbsp extra virgin olive oil
1 red onion, peeled and chopped
1 garlic clove, peeled and chopped
700g chopped butternut squash and sweet potato (you can buy in bags, ready-chopped)
500 ml fresh chicken or water, or a combination of both
Sea salt
Freshly ground black pepper
For the nut topping:
A pinch of sea salt and freshly ground black pepper
Shelled walnut halves (10 per person), you can also use toasted pumpkin seeds if liked
Fresh coriander (optional)
Method
1. Heat the olive oil in a pan and sweat the chopped onion and garlic until soft and slightly transparent.
2. Add the butternut squash and sweet potato and sweat until soft.
3. Add the stock/water and simmer on a low heat for 20 mins, partially covered with a lid, until the squash and sweet potato are soft and break up easily when prodded with a fork.
4. Meanwhile, dry-fry the walnuts, sprinkled with a pinch each of dried chilli flakes and sea salt, until the nuts are warm and fragrant.
5. Blitz the soup in a blender, then add the salt and freshly ground pepper to taste. Sprinkle the nuts over the soup before serving. Decorate with coriander leaves if liked.
Source: Hyde J (2016) The gut makeover: 4 weeks to nourish your gut, revolutionise your health and lose weight.
United Kingdom: Quercus Publishing.
Allergy advice: contains nuts (if walnuts used).