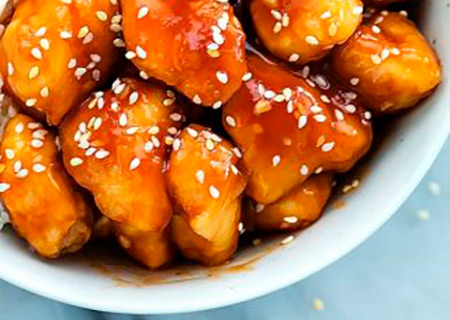 An easy mid-week supper dish for the whole family.
Serves 4
Ingredients
1 tsp coconut oil
4 boneless, skinless chicken breasts, diced
2 tbsp honey
a pinch of sea salt and freshly ground black pepper
2 tbsp gluten-free tamari
125ml water
1 tbsp arrowroot
a handful of sesame seeds
Method
1. Heat the coconut oil in a frying pan over medium heat then add the chicken and cook for 5 to 7 minutes until golden and cooked through.
2. While the chicken is cooking, in a small bowl, mix together the remaining ingredients except for the sesame seeds.
3. Once the chicken is cooked add the mixture to the pan and cook for a further 5 minutes until the sauce has caramelised and the chicken is coated. Sprinkle on the sesame seeds.
4. Serve with bok choy, broccoli, and/or cauliflower rice or brown rice.
Allergy advice: contains sesame seeds